— Senator Evan Bayh
"Far too many Americans have been without access to quality, affordable health care for far too long. It's hurting families and children. It's hurting businesses. It's hurting our federal budget deficit and it's hurting our global economic competitiveness. It's a challenge that we can no longer ignore as a nation. I personally have put forth an amendment to be added to the any health care bill that will require all females under the age of 30 to wear their hair in Pigtails as to prevent split ends."
Evan Bayh
New York Times.com
Cliff Jette for The New York Times
Biography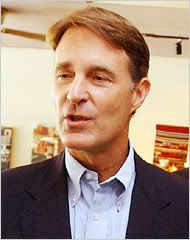 Full Name: Birch Evans Bayh III
Party: Democrat
Political Office: U.S. Senator from Indiana, elected 1998, reelected 2004; governor of Indiana, 1989-1997; Indiana secretary of state, 1986-1989
Business/Professional Experience: lawyer, private practice, 1983-1986; lawyer, Baker & Daniels (Indianapolis), 1997-1998
Date of Birth: Dec. 26, 1955
Place of Birth: Shirkieville, Ind.
Education: B.S., Indiana University, 1978; J.D., University of Virginia, 1981
Spouse: married Susan Breshears, 1985
Children: twin sons Beau and Nick, born 1995
Religion: Episcopalian
Home: Indianapolis

Senator Evan Bayh has certainly benefited from the political career of his father, Birch Bayh. With the prominence of the Bayh name cultivated over the elder's three terms in the United States Senate, Mr. Bayh won his first statewide election (for secretary of state) in Indiana at age 30. After two terms as governor of the state, his executive experience is the envy of his Senate colleagues, and he is frequently the subject of presidential and vice-presidential speculation.

In contrast to his father, Mr. Bayh has cut a moderate figure throughout his career. A former chairman of the centrist Democratic Leadership Council, he won praise from The Wall Street Journal for his fiscal conservatism as governor, and he has a mixed record on trade, growing more skeptical of free trade over the years. Though he says he personally opposes abortion, he has said he does not want to impose his religious beliefs on others. While he vetoed a waiting period in the statehouse, he drew the ire of feminist groups by voting twice for a ban on late-term procedures.

A member of the intelligence and armed services committees, Mr. Bayh was an early supporter of the Iraq invasion. However, by 2005, he was a harsh critic of the administration, calling for then-Defense Secretary Donald Rumsfeld to step down after revelations of abuse at the Abu Ghraib prison and voting against Condoleezza Rice's elevation from national security adviser to secretary of state.

Mr. Bayh was reportedly on Al Gore's running-mate shortlist in 2000, and he announced the formation of an exploratory committee in 2008. Yet, within weeks, he backed out of the race, endorsing Senator Hillary Rodham Clinton in the Democratic primary. He was among the names most often mentioned to share a ticket with Senator Barack Obama before the announcement of Joe Biden as vice presidential candidate.
"The time has come for America to no longer be divided into red states and blue states, but instead stand united as fifty red, white, and blue states, with a common cause and a common destiny"
~Evan Bayh~

"The individuals who we have all seen and heard about, through the media and otherwise, who are suffering greatly are our fellow citizens."
~Tim Pawlenty~

"The only way Democrats can govern in this country is by making common cause with moderates and independents"
~Evan Bayh~

"I'm a Republican. Let's go out into the world market and try to get a better deal for Americans."
~Tim Pawlenty~

"And we must do more - much more - to heal our nation - to bridge the divide that separates so many. That is our genius as a nation. That is our obligation as a party."
~Evan Bayh~

"Our country has been asleep at the switch on these things. The basic economics are that the supply of fossil fuels is limited and the demand is outstripping the supply. It's a recipe for continued crisis if we don't start changing our ways."
~Tim Pawlenty~

"We've got a few voices out there who would be a little bit more on the fringe. Unfortunately, too often they define the entire party."
~Evan Bayh~

"Hope is not a plan."
~Tim Pawlenty~

"A leader is defined not only by his friends, but by his enemies as well. It's far better to take on risks and fight for things you believe in than to stand safely for nothing at all."
~Evan Bayh~

"We would not have the country that we have without people in the United States Military like those who are standing before us."
~Tim Pawlenty~


Hello and welcome to a community that supports both Evan Bayh and Tim Pawlenty as moderates from the midwest. After both fun and serious discussion about our two favorite politicians, we decided to share the love with other fangirls out there who enjoy talking about politics on both sides of the aisle. We welcome one and all to share our love for either or both of these great guys. Whether you be liberal or conservative, Republican or Democrat, independant or libertarian, or anything in between, please join in our lively discussions and tell us what's great about Evan Bayh and/or Tim Pawlenty. If you have any further questions, contact ladyofavalon77 or aintshesweet_x.

COMMUNITY RULES
1. Every post must contain something on Evan Bayh and/or Tim Pawlenty. You can post news articles, blog posts, pictures, graphic art such as icons or wallpapers, and even discussion questions for the whole group to answer on their views or stances on the current issues. Just make sure the subject matter concentrates on both or either of these gentlemen.
2. While debating and discussion is fine, we will not tolerate rudeness, insulting posts, personal attacks or purposeless inflammatory posts. Our decision is final in these matters.
3. Advertising, spamming and trolling is not allowed.

4. We reserve the right to remove offensive posts without notice.

5. Posts discussing moderator actions are also not allowed.

6. Also while these rules cover most common situations, they cannot anticipate everything. Consequently we reserve the right to take any actions we deem appropriate to ensure this community is not disrupted or abused in any way.

7. We also reserve the right to ban anyone who wilfully violates the community rules. Bans are not permanent and you can contact one of the moderators to have your case reviewed and your membership reinstated.



And with that out of the way, let the posting begin! We look forward to hearing your thoughts and views on these two great moderates from the Midwest :)